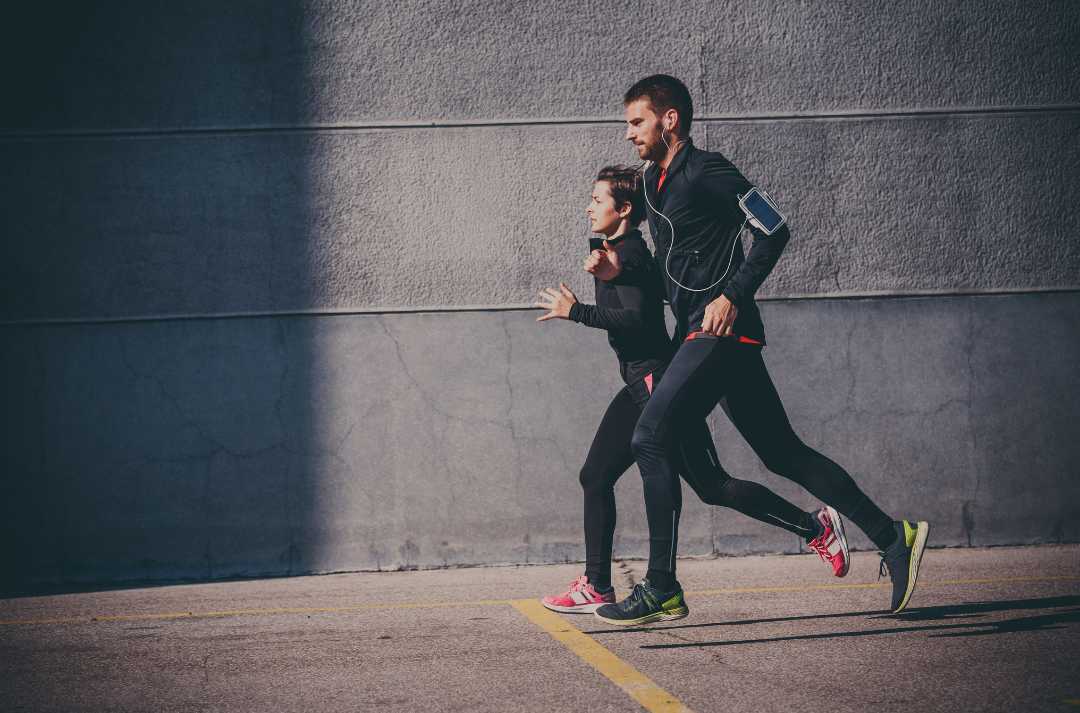 Two years into the pandemic, when most of the gyms have reopened, millions of people are continuing their outdoor exercise routine.
The pandemic has truly shifted the way people train for good. Some people are even speculating that gyms will never be as busy as they once were before the pandemic.
When the gyms closed during the recent lockdowns, people's usual workout routines were completely shaken up. We learned that we don't always need a gym full of fancy equipment to get a great workout done. You can work out using bodyweight exercises and minimal equipment, and it can be just as effective as lifting heavier weights.
Since the start of the pandemic, we've noticed a significant increase in the number of people taking up running. With many new runners taking to the streets, it's left one question on many people's minds - what is the difference between running to get into shape and getting in shape so you can run?
Put another way: What kind of shape do you have to be in before you start running?
The thought of starting as a runner causes some people anxiety. They're not sure if it will do them more harm than good. Perhaps they fear re-injuring an old injury or making a pre-existing condition like arthritis even worse.
Although running is one of the best ways to improve your health, it requires a certain level of pre-existing cardiovascular fitness to do it correctly. Modern-day life is often sedentary and many adults have lost the ability to run as they used to as kids.
Are You Getting Back Into Running?
Starting a regular running routine can definitely boost your fitness levels.
However, research shows that the cardiovascular changes (improved oxygen to your lungs, cardiac output, and stroke volume) that result from running occur long before any musculoskeletal changes (increase in muscle mass, strength, and endurance).
Why could this be a problem for those who are getting into running? It's not really a problem as much as it is a risk. It means that your heart and lungs will become more efficient than your skeletal muscles.
Basically, your heart and lungs will give you permission to run more than your muscles will allow.
A great way to overcome this problem is to add resistance training to an existing program. Weight lifting stimulates muscle growth and strength gains. When used alongside running, you will experience a boost in performance and less soreness after the fact.
Too many people get into strength training and overdo it right away. If your twenties are in the rear-view mirror by now, you won't be able to pick up where you left off.
If you're adding resistance training to your routine, you need to be careful not to overtrain.
Both running and weight lifting are taxing on the muscles and doing too much can hinder your performance.
Practicing strength training, speed training, and plyometrics will benefit most people who are trying to improve their running technique and boost their fitness.
This is because each of these things can increase the rate of force production (RFP), which describes how quickly your muscles contract to produce force. It's this force that drives you forward when you run, so a higher RFP means a faster run!
It's also important to consider your lifestyle and training preferences. This will affect your performance and technique. It will also determine whether you're better off getting into shape before you run, or running in order to get into shape.
We Are Here To Help You
If you're starting to run again and feeling soreness, stiffness or some kind of pain that's not going away, do not hesitate to reach out to us at the office. We have worked with runners at all levels for years now.
There are certain standards that health professionals will always look out for to ensure that runners are at low risk of injury when they run.
If you're concerned about your own running technique, book yourself in for an appointment so our team can give you a full assessment.

Dr. Diego Proano
Doctor of Chiropractic
Contact Me